Tags
A HOI3 Treasure Chest, AHOI-Mod, Alpha, Download, Hearts of Iron 3, Hearts of Iron III, HOI3, HOI3 Mod, HOI3 Modding, Mod, Neuigkeiten, news, patch, TFH, Their Finest Hour
As ever, first in Deutsch, then in English below, just scroll down for the second tank, Tiger II. 🙂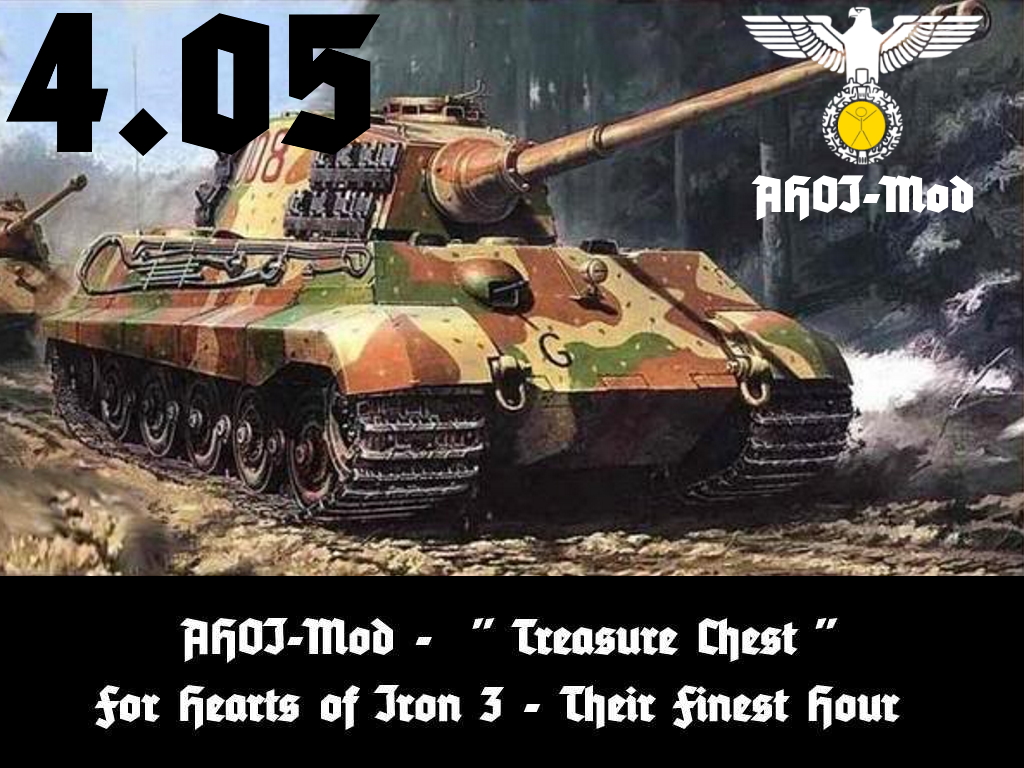 Ahoi,
es ist geschafft, die nächste Version seit gut 5 Jahren ist fertig.
Auf ModDB.com steht der neuester AHOI-Mod "Treasure-Chest 4.05 zum Download bereit:"



(Klickt auf den Schraubenschlüssel um zum Download zu kommen.)
Der letzte Ahoi-Mod hat die Version 4.04 ist vom 22. Dezember 2015! Ich habe aber seitdem immer einmal ein wenig an dem Mod gearbeitet, aber leider keine Aufzeichnung mehr über alle Änderungen die ich vorgenommen habe. Unten sind immerhin die Änderungen von der letzten Zeit aus diesem Sommer 2020, und die gesammelten bisherigen Änderungen seit der ersten Version von 2012 noch einmal unten aufgelistet. Jedenfalls die, die ich dokumentiert habe.
Allgemein scheint SOV deutlich schwerer zu erobern. Die Schlamm-Events machen einem 2x im Jahr die Logistik zur Hölle und das Bewegungstempo wird stark reduziert. Es verlangsamt aber auch die stärksten Computer! Dann lieber mit der Geschw. im Spiel runter und "durchbeissen". Generell rate ich alle 6 Monate zu speichern und neu zu laden, am Besten das ganze Spiel neu zu starten. Das scheint die KI neu zu beleben. Weiterhin sollte man auch dann vorher noch einmal die großen Akteure wie USA/JAP/ENG/SOV/GER einmal laden um zu gucken ob die KI da nicht eingeschlafen ist. Wenn die USA-Theater HQ's ab 1942 weiterhin "Aufmarsch" als Einstellung haben, dann kann man vergeblich auf Unterstützung warten! Das liegt aber an der strategischen KI die man leider nicht modden kann.
Hier noch einmal die gesammelten bisherigen Änderungen seit der ersten Version von Dezember 2012.
"Patchlog 4.05:"
Produktion:
Baubegrenzung in den Einheiten rauskomentiert für alle Einheiten(buggy)
Anpassung in der Produktions-KI – Mehr Kavallerie-Einheiten
SOV weniger MIL Produktion generell
Fehler in der Produktions-KI – Zuviele Milizen für SOV
Fehler in der Produktions-KI – Zuwenig Corps-Einheiten
Gebäude:
Gebäude Eisenbahn: Schneller zu bauen, max. 5 Infra, leicht zu zerbomben und zu reparieren
Gebäude Infrastruktur: Langsam zu bauen, max. 10 Infra, schwer zu zerbomben und langsamer zu reparieren
Karte
Meereenge weg von Karte Stranaer(ENG) nach Larne(IRL)
Bornholm Hafen weg
Port Harcourt Hafen neu positioniert
Forschung
Miliz bekommt nun Forschungs-Bonus von militia theory and militia practical anstatt von Infanterie.
Infanterie kann nun richtig erforscht werden. Miliz-Inf als Voraussetzung funkt. nun.
Lua-KI
Es sollte schwieriger sein militärischen Zugang von Schweden zu bekommen. (GER und SOV)
JAP bereitet sich eher auf den Krieg im Paifik vor
ITA greift FRA eher an wenn Paris gefallen ist
ITA mobilisiert eher
ITA greift GRE erst an nachdem YUG unter Achsenkontrolle ist
SPA geht zur Achse wenn ENG in Achse, London gefallen oder SUEZ unter Achsenkontrolle ist
Provinzen
Alle(!) doppelten Einträge raus
Eine Provinz in SOV war ohne richtige Einträge
Einige Dupletten gelöscht (leere)
Events/Decsions
Manpower help decsions raus
Maginot Line und Tschechien Forts events. Mehr Forts bleiben stehen
Einheiten
Schwere Pz – Org reduziert, Simulation von zusätzlicher Wartung
"Patchlog 4.04:"
"Ich bin mir nicht ganz sicher was sich alles seit der letzten offiziellen 4.02c Version geändert hat. Der Patch 4.03 war ja eigentlich nur für die Tester gedacht. Ich war ja dabei einiges Neues zu testen als mir im Oktober die Zeit zum Modden ausging. Also gibt es jetzt halt erst einmal alles was sich seit der Version 4.02c geändert hat.
Ich liste mal alles auf, an was ich mich erinnere:
12.232 geänderte Dateien..
Viele von denen sind nur Provinzen die die Gebäude Eisenbahn und Straßen getauscht bekommen haben um die Engine auszutricksen. Für die Infra auf der auf der Karte hat sich dabei nichts geändert. Der Trick hat aber auch keine gewünschte Effekte gebracht und ich werde das in der nächsten Version wieder korrigieren. Damit kommen dann halt ein neues schwieriger einzubauendes System neue Gebäude wie Autobahn und eine neue Art der Eisenbahn die nur von Deutschland angedacht war. Das gab es bislang ja nur als Technologien, die dann in der Art überflüssig werden. Wichtig für den jetzigen Stand ist nur, dass die Eisenbahn den Bonus von Straßen gibt und umgekehrt!
Weitere Änderungen:
-MAN wird jetzt Krieg gegen CHI erklären und JAP kommt erst später dazu. Einige Provinzen haben den Besitzer gewechselt um der KI zu helfen einen historischeren Verlauf zu folgen. Aber das ist noch nicht ausbalanciert.
-OOB's wurden angepasst
-Technologien angepasst
-Einige von deltablues Änderungen für Einheiten übernommen
-Einige von deltablues Änderungen für Technologiebilder übernommen
-Einige von "Hjalfnars Marine update" für bessere historische ausgestattete Marinen der Hauptländer übernommen
-Einige weitere Marineänderungen für FRA wie bei "Hjalfnars Marine update"
-Einheiten Upgrade Möglichkeiten angepasst
-Einige Technologievorraussetzungspfeile in den Technologiebildschirm Panzer angepasst
-Produktionslimit für Einheiten wieder geändert
-Einige Auswirkungen und Startjahre von Technologien geändert
-Einheiten geben mehr praktische Erfahrung bei der Produktion. Also verliert man jetzt diese Erfahrung nicht mehr so leicht.
-Einheiten-Counter haben einen neuen durchscheinenden Holzhintergrund
-Ladebildschirme geändert
-Die GUI hat ein paar neue Texte bekommen
-Werte in den static_modifiers angepasst
-Werte in den strategic_resources angepasst
-Werte in der defines.lua angepasst
-Ein paar Events um Jugoslawien nach der Eroberung durch die Achsenmächte unter diesen auszuteilen um die Versorgungslage für die KI zu vereinfachen
-Rasputitia Events hinzugefügt. Zweimal im Jahr wird man nun aufgrund der Schlammperiode extreme(!) Versorgungsprobleme in Zentralrussland haben
-Huang He Flut Event hinzugefügt. Als CHI kann man nun wie historisch geschehen die Deiche des Gelben Flusses sprengen und weite Regionen überschwemmen. Das senkt die Infra dort massiv und erschwert JAP den Vormarsch ins Hinterland
-Ein neues System zur Mod-Installation. Dadurch wird es einfacher den Mod zu installieren -man muss nichts mehr löschen, kann aber weiterhin-, es kann keine Überschneidungen mit alten Installationen des Mod mehr geben und man kann sich leichter sicher sein alles richtig installiert zu haben.
Und sehr wahrscheinlich eine Menge weiterer Dinge..
"Patchlog 4.03:"
Ist in das von 4.04 mit eingeflossen.
"Patchlog 4.02c:"
-Neue tooltips für die neuen Gebäude
-Neue Beschreibung für die neuen Gebäude-Entscheidungen.
-Einige Fehler im Technologiebaum behoben.
-Einige Technologien die nur einen Malus hatten(Voraussetzungstechs) haben jetzt auch einen kl. Bonus.
So könnt Ihr mit einigen Produktionstechnologien nun die Baukosten und Bauzeit für Einheiten senken.
Es ist also möglich auch große Schiffe schneller als in 3-4 Jahren zu bauen.
-Im Marinekampfschirm haben jetzt alle Schiffe eine richtige Grafik zugeordnet.
-Neue Gebäude haben im Produktionsschirm richtige Grafik
-Max. Anzahl von Einheiten korrigiert(Paradox hat da einen Fehler in der Berechnung).
-CGM-Modus geändert, so daß nun alle Länder wirklich nutzbar sind.
-Buttons für Spielgeschwindigkeit wieder geändert.
-Erste gfx für Modelle angepasst.
-Dynamische KI ein wenig modifiziert.
-Produktions KI modifiziert, weniger Schiffe generell und vor allem für kleinere Länder
-Schriftanzeige der gesunkenen Schiffe von schwarz auf weiß geändert.
-Schadensmodifikator für Luftkampf abgeschwächt für kritische Treffer.
-Neue Kommandanten "Org hit" verstärkt. Einen neuen Kommandanten einsetzen sollte jetzt einen deutlichen Org-Verlust geben. Und noch ein paar andere kleine Änderungen hier und da.
-Noch ein paar andere Dinge, die ich vergessen habe zu notieren..
"Patchlog 4.02b:"
-Die neuen TFH Features Panzerung/Panzerungsdurchdringung sind eingebaut.
-Das neue Taktiksystem von TFH ist eingebaut(Doktrinen).
-Ein paar Technologiefehler behoben.
-Technologiebalancing.
-Technologieänderungen wie die WK1 Flugzeuge sind nun integriert. (WK1 Szenario kommt näher..)
-Produktions Lua angepasst.
-Neue Gebäude können jetzt gebaut werden:
Baut man einen Hafen oder Flughafen, bekommt man einen Marinestützpunkt/Luftstützpunkt umsonst alle 2 Stufen durch eine Entscheidung die dann aktiviert werden muss. Die militärischen Basen können schneller gebaut werden als die Zivilen. Die militärischen Basen werden aber für die Reparatur etc. gebraucht. Die Zivilen geben IK/Infra.
Eisenbahnnetze sind jetzt auf der Karte vorhanden. Eisenbahn ist leichter zu bombardieren und ermöglicht mehr Nachschub etc.. Durch Kampfhandlungen sinkt die Infra dadurch schneller.
-Schwere Industrie wird noch an schweres Material wie Panzer etc. gebunden. Genauso wie zivile Häfen/Flughäfen und See- Lufteinheiten.
-CGM-Modus sollte jetzt mit allen Ländern möglich sein.
Ich freue mich auf Rückmeldungen und Unterstützung
Ich mache das immer noch hauptsächlich allein. Wer gerne mithelfen möchte den Mod besser zu machen, oder Ideen/Anregungen hat, teilt dies bitte mit. Nur so kann der Mod besser werden.
Z. B. ist mithilfe bei den Technologiebeschreibungen und Bildern hilfreich. Evtl. kannst du ja einen Teilbereich übernehmen. Das ist nicht schwer, aber aufwendig wenn ich alles alleine machen muss. Eine kurze Anleitung wurde erstellt und einige wie haben auch schon geholfen. Einen herzlichen Dank an alle bisherigen Hilfen an dieser Stelle!
Schreib mir einfach wenn du helfen willst.
Bitte tragt im Forum ein was Ihr machen wollt damit es keiner doppelt macht. Um es übersichtlicher zu haben nutzt bitte dieses hier:
http://ahoi-mod.forumotion.com/ Oder Du schreibst in einem anderen Forum, facebook, twitter, wo ihr eben schon unterwegs seit. 🙂
In der Datei "AHOI-Technologien Hilfe.txt" kann man lesen wie einfach es ist neue Technologiebeschreibungen oder Bilder einzufügen.
Ich wünsche viel Spaß mit der Version 4.05 des Ahoi-Mod – Treasure Chest!
Grüße!
Chromos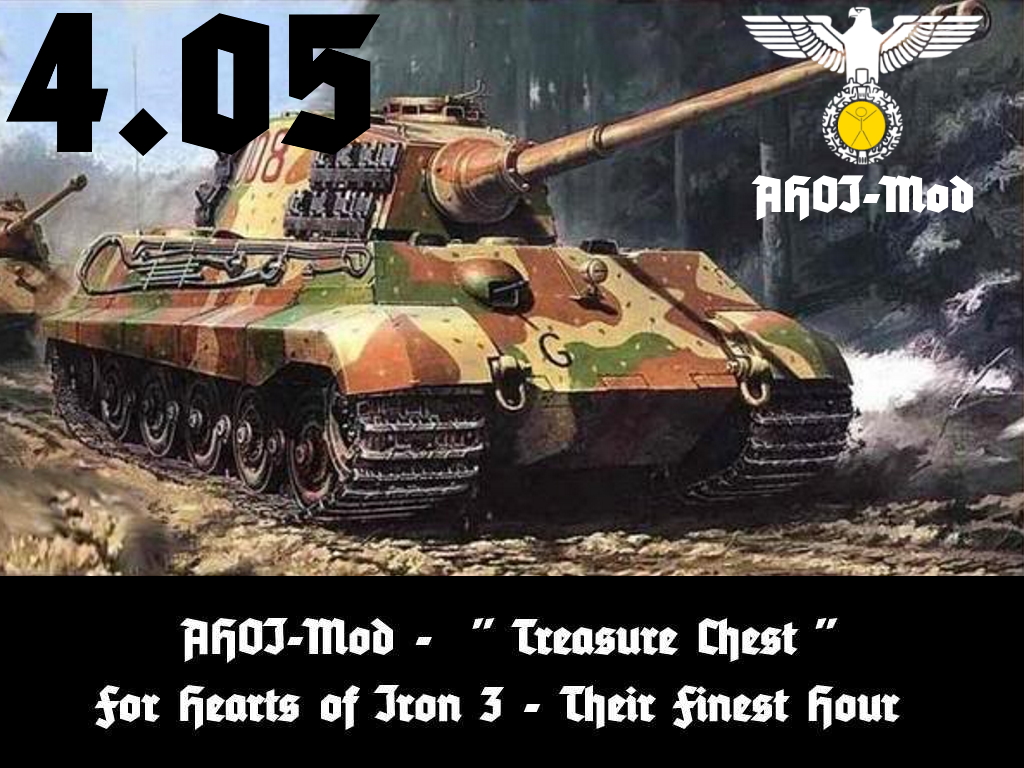 English:
Ahoi!
It is done, the first version after ~5 years.
On ModDB.com you can find the newest AHOI-Mod "Treasure-Chest 4.05 reday for download:"



(Click on the wrench above for the latest version.)
The last Ahoi-Mod was the version 4.04 from Dec 22, 2015! I did work on the mod since, but didn't kept note of the many changes. Below you find at least the changes from this summer of 2020 and all that I wrote down for the previous versions.
Generally seems SOV to bee much harder to defeat. The mud-events give you 2 times a year a logistic hell and movement is slow. Also it will stall even the fastest Computers. Maybe put down game speed and hope for better weather.
Also generally I propose to save every 6 month and reload the game. Best to restart the whole game, as that seem to bring new life to the ai. Also don't forget to check the other major powers like USA/JAP/ENG/SOV/GER to see if the ai felt asleep there. Check the stance of teh Theatre HQ's, and if it is "prepare" you can wait forever for the support of e. g. the USA.. Sadly this is tied to the strategic ai and can't be modded.
"Patchlog 4.05:"
Production:
Production limit in the unit files gone because it is partially buggy
Changes in production-ai, should build slightly more cav-units
Aditionally SOV build some less MIL units overall
Fixed a bug in SOV production of MIL
Fixed a bug in production ratio for Corps-units
Buildings:
Railroad is faster to build but takes easier damage, repairs faster, max 5 Infa with 10 buildings
Infra is slow to build but is taking more damage and slower rebuilds, max 10 Infra with 10 buildings
Map:
Connection between Stranaer(ENG) to Larne(IRL) is gone. Transports needed now. ENG was buiding up way to much units there for nothing..
Bornholm lost its harbour. With harbour it is a potential target for stupid ai invasions.
Research
Militia_infantry is gets a research bonus from infantry theory and intantry_practical, changed to militia theory and militia practical.
Infantry_activation is a 1910 tech, but requires inf:militia_infantry-2 a 1930 tech- changed
Lua-ai
SWE will not allow military access that easily anymore
JAP is preparing earlier a war in the pacific
ITA will prepare earlier for a war with FRA
ITA will mobilize sooner
ITA will attack GRE only after YUG is gone
SPA will join axis if London has fallen, ENG is axis or SUEZ is under axis control
Provinces:
All old paradox double entries deleted
All entries according to later scenarios deleted
Some empty double provinces deleted
Events/Decsions
The old manpower help decsions is gone
Maginot and Czechia fort reduction altered – more forts remain
Units:
Hvy tanks have some less org-simulation of increased maintenance
"Patchlog 4.04:"
All over all I'm not quite sure what much I did since last official version of 4.02c. I was in a major overhaul as I had to stopp modding in October 2015 and now just wanted to share what I've done since. Lets have a look at what I remember:
12,232 changed files
Many of them only provinces wich got railroad switched with roads to trick the engine. Infra lvl wise nothing changed. trick didn't work so I need to do it the really hard way and implement anoter more work intense solution. But then we'll get also highways and maybe another type of railway that was only "planned" by Germany..
All you need to know is, RR give actually the old Infra bonus from roads and vice versa!
But also:
-MAN should now declare war against NatCHI and Japan only fully joins in later.. I had also done quite some province changes, e.g. in China to help the ai do a more historic war over there. But it is not done/balanced yet.
-OOB's were adjusted
-Techs slightly adjusted
-Added some of deltablues additions for unit modells.
-Added some of deltablues techs pictures for some techs.
-Added "Hjalfnars Marine update" for better historical ship start techs.
-Added some own changes for FRA ships according to "Hjalfnars Marine update".
-Tweaked unit upgrade paths
-Changed some dependencies path drawings in Pz-Tech screen
-Changed production limits of units to work some better.
-Tweaked some techs stats(start date, gains).
-Units give more practicals so you don't loose to much production experience anymore.
-Unit counters got new wooden look
-Changed loading screens again, other cool pics..
-Changed some text for UI.
-Tweaked some values in static_modifiers
-Tweaked some values in strategic_resources
-Tweaked some values in defines.lua
-Added some events to help divide Yugoslavia between axis powers to prevent supply problems.
-Added Rasputitia. You will have two times a year a severe problem with suppy in center russia because of the mud season.
-Added Huang He flooding. As CHI flooded the Huang He river to slow down the JAP adavance, you and the ai can do that now too.
-Added a new system on how to install the mod to have it easier for all of you to install the mod and being sure to have it done right.

And propably much more..
Patchlog for 4.03:
Is included in that of 4.04.
Older patchlog can be seen in the readme.txt..
Patchlog for 4.02c:
-Changed loading screens again, other cool pics..
-Added description(tooltips) for new buildings
-Added description(tooltips) for new buildings decsions
-Fixed some typos and oddities with some technologies wich were reported
-Added some bonuses for techs that were only prerequisite and had only malus so far.
So with some produktion techs you get now boni and also can reduce the build cost/build time of units. So no longer 4 years builds for modern ships, but 2 years are possible now with the right techs.
-Added ship gfx for naval combat view.(MTB, all carriers, PocketBB)
-Added gfx for new buildings in production view
-Fixed percentage values for max amount of units being buildable.(Paradox bugged it, so that needed a workaround..)
-CGM-Mode should work now with all countries.
-Switched gfx for pause/speed up/speed down, so that is usabel as before again.
-Added first changes for Models and pics of those(Still very generic..)
-Changed slightly the dynamic ai decsions
-Production ai slightly changed to have more land units build earlier, and have a better building for minors.
(Overall less ships will be build.)
-Changed sunk ship list font colour to white again.
-Changed some dmg modifier for air combat critical hits(nerfed it ab it)
-Raised new leader org hit and some more little tweaks here and there..
-Some more I didn't wrote up..
Patchlog for 4.02b:
-I hope I patched all reported bugs.
-Counters changed to have no more borders around them.
-The new feature of TFH of Penetration/Armour are implemented.
-The new feature of TFH of Tactics is implemented(Doctrines)
-Some technology errors solved.
-Some technology balancing.
-Technologies like WW1 planes are now integrated. (WWI Scenario will be added some later..)
-Changed productions Lua.
-New buildings are finally in:
If you build a port or airport, you get a naval base/air base for free every two steps via decsions you can take.
Military buldings can be build faster then the civil part, but military bases are needed for rapair/refuel, civil buildings add IC/Infra.
Railroad networks are added. A railline is easier to be bombed/dmg in fights but allows more supply.
Heavy Industries will later be tied to production capabilities of tanks in the same way as ports/airports needed for air/sea units.
-CGM-Mode should work now with all countries.
-Some more I didn't wrote up..
Feedback wanted!
I'm still just one person doing this. So you help me much with just pointing out to things you find worth mentioning.
Please help and add a note here in the forum about what you would like to do, so we don't have unnecessary double work. To have all feedback focused in one place please use this forum:
http://ahoi-mod.forumotion.com/
In the file "AHOI-Technology help.txt" you can read how easy itis to add new descriptions for techs and add pictures for them.
It would be nice if you can help me with the descriptions and techs for the tech-tree. Maybe you can just take a branch you like. Thats not hard work but much if I do that all alone. A little how to was done and some already helped with this. A very big thank you to all who helped me so far! Still it is much left to do. Just let me know that you like to help. You can use the forum above, or use another forum, facebook, twitter..
Have fun with the newest version of the Ahoi-Mod – Treasure Chest 4.05!
Cheers,
Chromos